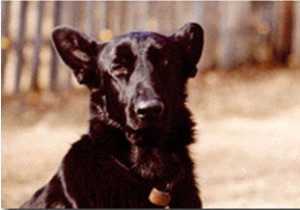 Logan (Dec 8, 1991 – Jan 12, 1996)
Logan was my first German Shepherd. He was bred and raised by Ann, Marsha, and Roger Gafke (King's Pride) in Columbia, Missouri. I adopted Logan when he was 18 months old. He was an easygoing, affectionate, and protective friend. I will always treasure his gentle companionship.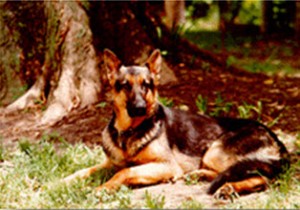 Jake (May 12, 1993 – Nov 13, 2001)
Jake was my second King's Pride Shepherd.
I adopted him when he was 6 months old to provide Logan with a playmate. Jake was remarkably intelligent, playful, agile, and brave. He loved me with all his heart.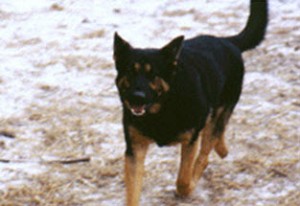 Cody (Aug 9, 1995 – March 10, 2004)
Cody was my first Shepherd from Carolyn D'Orta (Tiffany). I adopted Cody at 4 months. Storm later became his playmate. Cody was independent, spontaneous, and a very cunning escape artist. He brought our pack boundless play and joy.

Hobbes (Dec 5, 1995 – Aug 19, 2009)
Hobbes was my first Tiffany and King's Pride Shepherd. I adopted him at 4 months. Hobbes pushed the limits. He was gentle and loving. His courage and loyalty were unmatched. His sophisticated humor brought joy to our pack.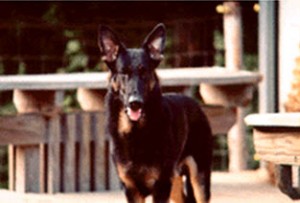 Calvin (Dec 5, 1995 – Jan 9, 2007)
Calvin was my second Tiffany and King's Pride Shepherd. I adopted him at 12 months. Calvin was gentle, intelligent, brave, and affectionate. His love for me was remarkable. I treasured his insistent nudges, urgent hugs, and joy of living. He protected our pack and taught me about courage.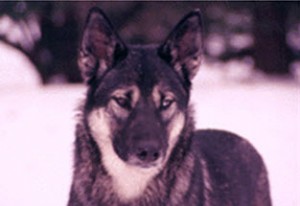 Storm (Dec 8, 1997 – Aug 12, 2010)
Storm was a wolf-malamute hybrid. I adopted her at 11 weeks from John and Carrie Gaines. She was a playful and loving companion. She was too clever for her owner and ran our pack. I miss her steadfast loyalty, courage, and gentle spirit.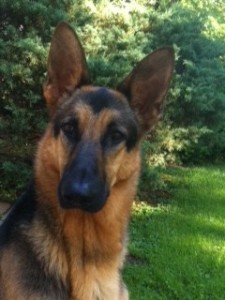 Samantha (May 29, 2008 – March 13, 2018)
Sam was my third Tiffany and King's Pride Shepherd. I adopted her at 8 weeks. She helped me raise Bama from a puppy and was my constant companion. She had boundless affection and energy. She patrolled our house while I taught on campus and waited by our large picture window for my return. She loved to be wherever I was and constantly watched over me.  I have never loved a companion animal more.
Bama (Aug 18, 2010-July 30, 2022)
Bama was my first Shepherd from Covy-Tucker Hill. I named him after Aaron "Bama" Truitt. I adopted him after one look at his soulful face. Bama was Sam's constant playmate. His gentleness and sweet disposition made him one of my favorites. He was my last campus canine ambassador, eagerly sharing his affection with my students. In his "retirement," he enjoyed sitting on his cushions, watching Emma and Cooper roughhouse. The Lindquist staff loved him.
Emma (March 1, 2018)
Emma is my second Covy-Tucker Hill Shepherd. Nick Gravett and I selected her during his graduation wine-tasting trip to Napa. She understands short sentences and grasps nuance. Neighborhood walks are challenging because she strains to fetch passing upscale cars. She is intensely loyal, demanding to be at my side wherever I am in our house. She is gentle, loving, and bright. She and Cooper have become best friends, and their aggressive play belongs in a MMA contest. Emma is my soulmate and has eased my loss of Sam.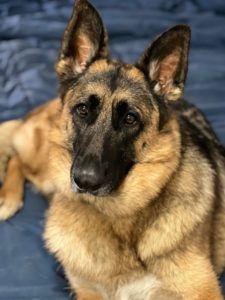 Cooper (September 24, 2021)
Cooper is my first Shepherd from Lindsay Hudspeth. He is a hellion. He leaps at me at every opportunity and swipes with his massive bear paws. He wrestles non-stop with Emma (see the YouTube video below). He pushed the limits with Bama, who wanted to be left in peace, and somehow managed to survive. Although he personifies chaos, he is surprisingly obedient and eager to please. Before bedtime, he rolls on his back for a belly rub and a hug. In the morning, he leaps on the bed to kiss me and demand backrubs. I cannot imagine life without him.